It's that time of year again when the beloved holiday specials of childhood's past get aired out for a new generation to wonder at and for us to revive our own memories of when we first saw the Grinch, Charlie Brown and Fred Astaire as the Postman. But every year it seems that fewer of the classic specials are aired, instead replaced by new ones of a lesser quality and no Boris Karloff narrating.
I have two favourite specials, neither of which have been repeated since their original broadcast in the early 1990's. First, there's Lamb Chop's Chanukah Special. I've watched it so many times that the tape is badly stretched and I can only chance to watch it every couple of years. I loved how it told the story of the Miracle, mixed in with the modern shenanigans of Charlie Horse, Hush Puppy and Lamb Chop, a recipe for latkes and Chanukah songs that don't involve Adam Sandler or a clay dreidel (they're made of wood or plastic). But, alas, I could not find any clips online.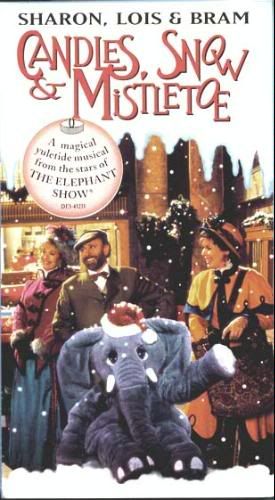 My other favourite special is Candles, Snow and Mistletoe which I have a vivid memory of having just turned 5 and being allowed to stay up late to watch it air on the CBC. If you were growing up in the mid-'80's/early '90's and watched the CBC, then you must have watched Sharon, Lois & Bram's Elephant Show (Skinnamarikydinkydink, Skinnamarikydinkydoo) which I seem to recall was on after Mr. Dressup. I loved watching it over and over again because of the musical numbers and the fantastic coats on Sharon and Lois and now I watch it to bring back memories of growing up in Canada. Here it is in six parts from YouTube, however the powers that be at YouTube have unsynced the audio and video, but it's still watchable.
Do you have any favourite holiday specials that you watch every year? Or any traditional holiday viewings in your country that are different than the ones shown in North America?