Granville Island is a large man-made island built in 1917 and located inside of False Creek (a neighbourhood that you will probably hear about during the Olympics) underneath the new Granville Street Bridge and across from the downtown peninsula (Vancouver has a number of peninsulas). It was once a major industrial centre but the federal government took it over in the '70's and now the industrial buildings house artisan workshops, theatres, shops, an arts university, markets and a lone cement plant.

Granville Island in 1922
(source)
Granville Island in 2005
(source)

Even though it's a tourist attraction now (especially in the summer) and I can't really afford to buy anything there, I love to wander about and window shop during the year, but especially in late December. All of the merchants and artisans decorate for Christmas and everything has that little extra sparkle and it makes it seem like that magical land I remember from childhood.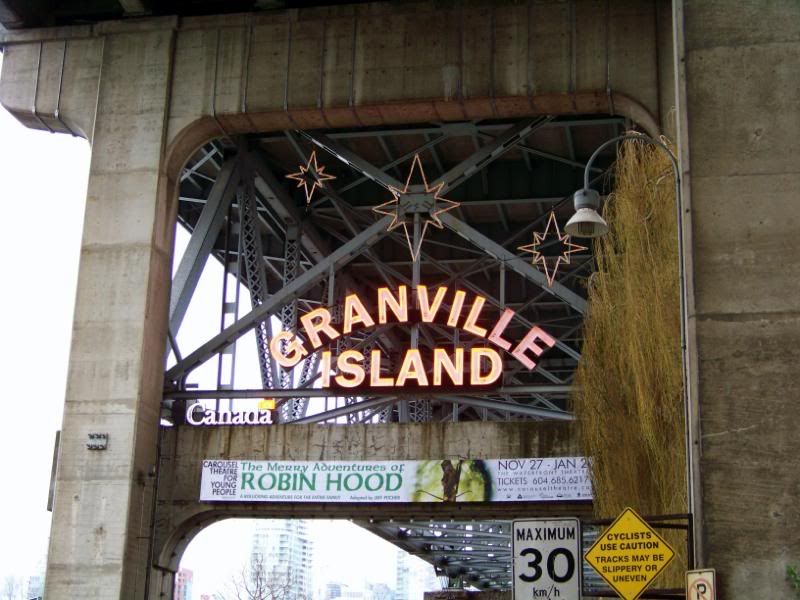 This building has been under construction for a little more that ten years, no one can figure out what to do with it.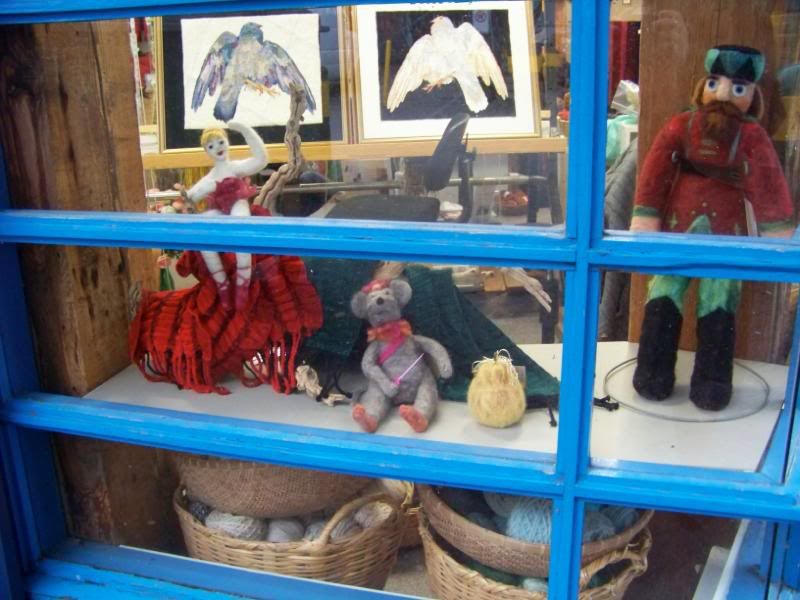 Edie Hats
has always been one of my favourite shops in Vancouver. It's in the Net Loft building, which happens to be directly in the middle of Granville Island. It's also the only hat store in Vancouver, which has never been a major hat town -it's even hard to find vintage hats that don't cost an arm and a leg. But Edie's is always crowded, even when they were it their old store (also in the Net Loft), which was so small and packed from floor to ceiling with the most wonderful hats and no one was able to turn around. Their new store is bigger so that it is possible to turn slightly to the left inside. Not only is it filled with hats, perfumes, bags and a small selection of shoes, but Edie has created a store meant to resemble your grandmother's attic, filling the shop with antique wood and soft leather furnishings and deliciously springy wooden floors (everywhere else in Granville Island has hard concrete floors). I hope to one day save up enough to actually buy a hat from Edie's.
The Public Market (the building above) is one of the few places where anyone can afford to buy something. There are about 100 market stalls selling every type of food available here and everything is always fresh and in season, even the candy stalls. It's also extremely crowded, so it's best to walk around slowly and avoid the queue jumpers and listen to the buskers playing music. I find that it's best to avoid the tourists during the lunch rush and to go later on in the afternoon when the locals are buying their food.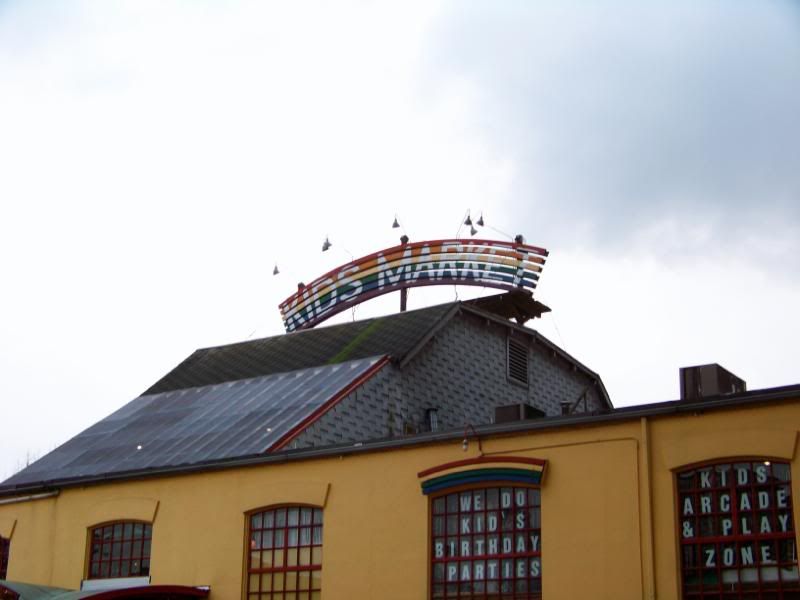 Kids Market is my favourite building in Granville Island. Not only is it the largest, but it even has a separate door for kids only. Most of my childhood toys came from the shops in there, which mostly sell what are considered to be "retro" toys (in other words, non-electronic). I'm always happy to see that the toy selections haven't changed much in Kids Market, there's still the same abundance of stuffed animals, Playmobil, educational models, train sets and wooden toys. There's also a store that only sells puppets and marionettes and a ball pit with many slides.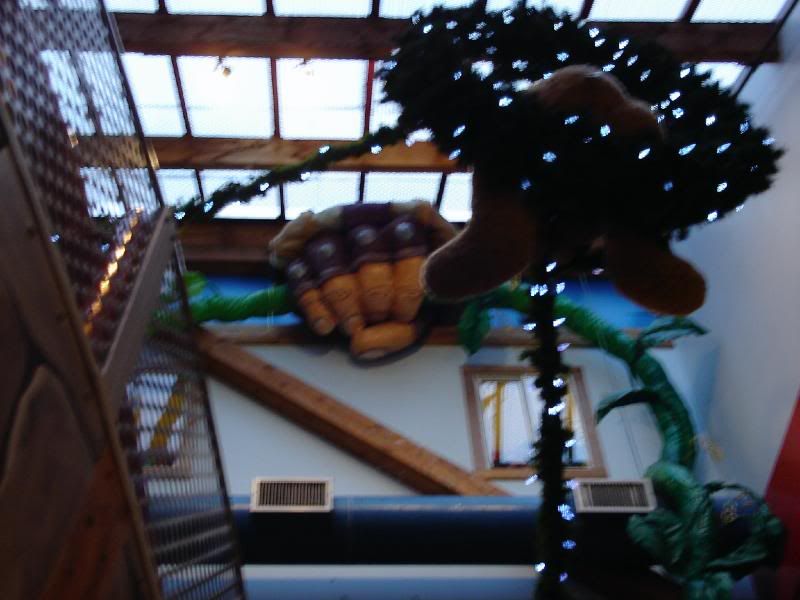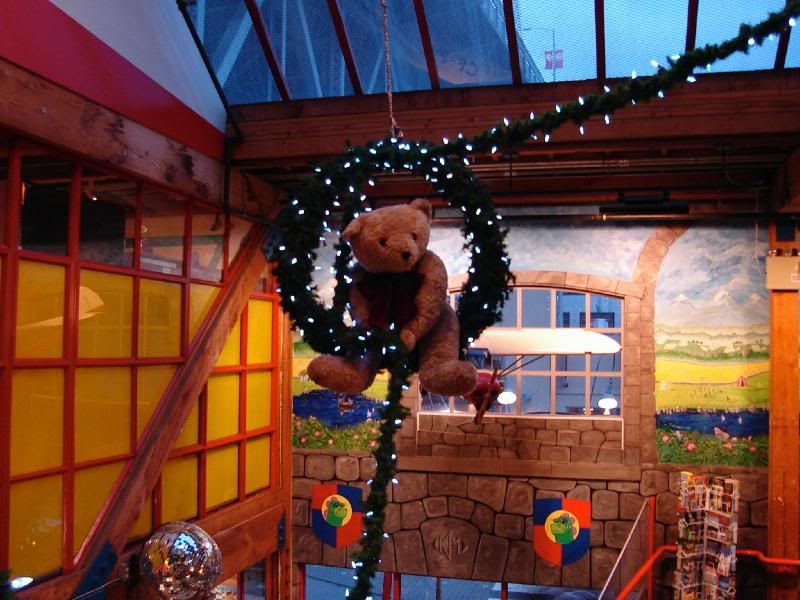 Two tips if you ever visit Granville Island: 1) wear flats, as heels will get caught in the wooden docks. 2) since cars are still aloud to drive around looking for mythical parking spaces, it's best to walk down from the bus stop/car parked a few blocks away and to remember that half of the fun of Granville Island is to avoid being run over!